Ode to October
Oct 30, 2014
Born Anew Each Year
My Ode to October poem was born in 1992, the year the Natural Law Party was born, but each year it is born anew. I pull it out at the end of September every year and enjoy renaming it – "Ode To October 1993", "Ode to October 1994". On and on my Ode has gone for 22 Octobers now receiving a new birth and new name. At last, although November just 'rounds the bend, I post my Ode to October and send it out with a splash. Below are Audio (7:54) and text versions of the poem.
Eternally Fresh and Young
It may be one of those 'old poems' but the delight and inspiration it brings me – and whoever will listen to me recite it – is always like new because the principles of Natural Law it celebrates are eternal.
Where were you in October 1992?
Do you remember where you were in October of 1992? I remember it so vividly. The Mother Divine Program was housed just outside the village of Valkenburg, Netherlands in a large old brick building.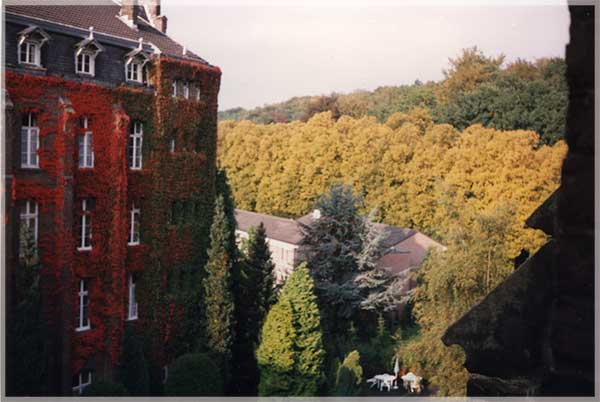 We were all consolidated into one big group then, something like 200 ladies from many countries. During the parts of the day that our eyes were open the sounds of laughter and enthusiasm for all the joys of life, including endless conversations on deep spiritual experiences and Maharishi Vedic Science, filled the air in our sprawling happy home. A variety of languages, and English with many beautiful accents, could be heard everywhere. It was an infinitely dynamic atmosphere but during the many hours of the day that we were engaged in our practice of the Transcendental Meditation® and TM-Sidhi® programs the Silence was pure, profound and almost deafening.
Thrills in the Air – Inner and Outer Awakenings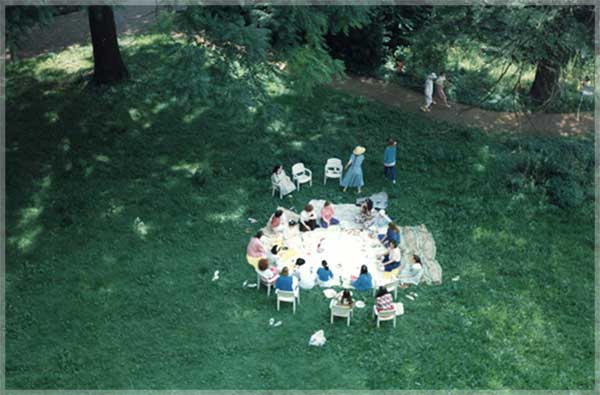 I had been on the Mother Divine Program for 8 years by then and every day was full of 'aha's' and awakenings happening on every level of my being. Evolution was unfolding a million miles an hour as my experience with the Transcendental Meditation and TM-Sidhi program became deeper and deeper. Yogic Flying, twice a day with so many fellow Mother Divine, was amazing, fun, deep and unbelievably blissful. There was always a special thrill in the air to be participating in Maharishi's programs to create Heaven on Earth. I loved being a part of something so huge.
Natural Law Party Thrills
One of the special thrills in the air that year of 1992 – Maharishi's Year of the Constitution of the Universe – was the Natural Law Party. Maharishi had turned his attention to enlightening politics and presenting the refreshing perspective that politics should be a "pious profession". He coined the saying that "only a new seed will yield a new crop" and sent thrills of hope throughout world consciousness stirring the vision of the possibility of a higher and completely natural and dignified level of politics to dawn in the hearts and minds of many people.
He said: "The knowledge of Natural Law now available is complete enough to create a system of administration based on Natural Law and to structure a government that utilizes the same infinite organizing power of Nature that is already silently administering the entire universe without a problem.
Wholeness on the Move – Vote Natural Law!
Maharishi's vision of bringing the stable and comprehensive knowledge of Natural Law into local, national and international government deeply caught the enthusiasm of many Meditators, Sidhas and Governors who picked up the idea, created the Natural Law Party and organized to run for offices at every level of government. By early October of 1992 Dr. John Hagelin's campaign for the presidency of the United States was coming into the home stretch. The Mother Divine Program was inspired to move back to the US in order to quietly support the national consciousness to rise and actually be able to vote that new seed into office on election day.
It was in that sweet flurry of getting ready to move en masse with the whole of Mother Divine and the pure, innocent excitement of the lively, deep inner knowing that anything is truly possible – including this miracle of voting into office a Natural Law Party president for the United States of America – that Ode to October was born.
October – More Robust with Heaven's Light Each Year
Although the Natural Law Party itself is no longer running candidates every year its principles steadily become more awakened in national consciousness.  October becomes more colorful, bright, plump and robust with Heaven's light with each passing year. And we on the Mother Divine Program continue to quietly enjoy our role – that of enlivening Natural Law and nourishing this transformation of world consciousness through our one-pointed attention on developing higher states of consciousness, enlightenment, through the extended group practice of the Transcendental Meditation and TM-Sidhi programs.
Below are Audio (7:54) and text versions of the poem. Enjoy the Ode! And, oh yes, the joyous farewell big to you oh magical month!
Ode to October 2014
written in Valkenburg, Holland September 1992
1st year of the Natural Law Party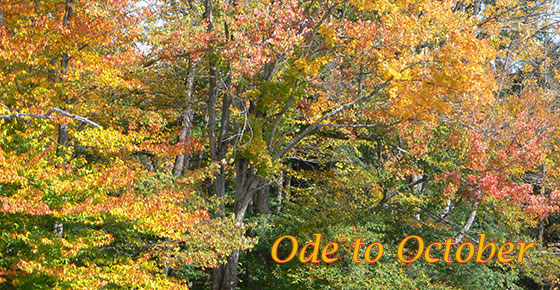 Oh the joyous welcome big to you oh magical month.
Colorful and plump with wondrous things will you be –
Bright with Heaven's light
And abounding in divine surprises.
Like the robust round pumpkin,
Sitting silent,
Radiating the story of inner fullness,
You too, oh October of rarest opportunity
Will zoom forth with unspeakable beauty
And a great power
To tell the ancient story of the depths of life.
Like a lovely lotus
Opening only orderliness,
Petal by petal,
Your full glory will unfold itself
Day after day
Spreading sweet fragrant gems
Of order,
Of wonder,
Of wisdom,
'round the globe.
Already you swell
And swell and swell
Like my heart
And the ocean
Ready to burst forth with awesome Love.
Autumn harvest –
Yes Yes now we are harvesting
The fulfillment of the prayer of every human heart.
For ages past the yearning deep,
And now human life on earth is ready
To take that great quantum leap.
Fall, this fall, this month, October, now,
Fall, fall away the old disorder;
Falling just like the old wall fell.
And rising up in its place, so royally, majestically,
In utter simplicity,
Dignity,
Purity,
Goodness,
The new order, perfect order,
The new administration based on Natural Law.
The grandest party
The United States has ever enjoyed
Is just round the bend  – to go on and on and on,
And everyone is invited to attend –
To come, to enjoy, to build, to create –
The Natural Law Party of America.
Everyone. Altogether.
Republicans. Democrats. Independents. Undecideds,
Working together harmoniously as an integrated Whole.
All the infinite diversity and creativity in America
To be basking in its source—unity.
The deep silence
Within the pure consciousness of each one of us
Giving rise to all that dynamism
Fostering more and more, ever more,
Creativity and intelligence . . .
This is the Unified Field of Natural Law.
This is the Constitution of the universe.
This is the Will of God.
Right within each of us,
So intimate to each one of us.
Yes, truly the Kingdom of Heaven lies within –
Within each of us.
Known by different names to different people,
But all that matters is that we draw it out
To make life on earth work
For everyone;
To make life on earth heavenly
for everyone.
The fruits are ripe now.
It's time for everyone to enjoy,
to receive the ever present nourishment.
Festivity.
Celebration
Inspiration
And yes Bliss
Blessed Bliss
Will fill the air throughout our dear country
And our dear world
This October and forever more –
For the new administration
Based on Natural Law
Is now being harvested
For sure.
With the infinitely compassionate intention
And the constant, enlightened attention
Of His Holiness Maharishi Mahesh Yogi for 50 years,
Complete knowledge of Natural Law is known now
And technologies – of consciousness – exist to access it,
To utilize it,
For all good to everyone
And non-good to no one.
Because it exists,
Because it works
Because suffering on earth can end now,
must end now,
The Natural Law Party makes its offer to America.
Like the satisfying sound and tender taste
Of the crunchy ripe autumn apple,
So the heart and mind of America
Will find itself tenderly satisfied
By the Natural Law Party's well-ripened autumn gift.
Though as old as the hills,
Fresh and crisp it ever is.
As the beloved plumpish pumpkin
Dots all the fair fields of America,
So the Unified Field
Will dot the field of government
With its beloved representatives
To create coherence there,
And a pure atmosphere,
Making it a fair field once again.
Like golden leaves sparkling in the sun and floating to earth,
So golden nuggets of proven solutions
And programs that work,
Sparkling in the sunlight of Vedic Science
And modern science,
Will float gracefully,
Purposefully,
To earth,
To be scattered widely 'round
By the warm winds
Of awakening world consciousness.
Fall fall this fall we are falling deeply
Into the depths of Pure Knowledge
The depths of pure wakefulness within,
Where awareness is ever alert and crystal clear.
And there, we as a world family,
Will collectively harvest the jewels of human consciousness.
With each fall within,
With each new jewel uncovered,
We rise again, further out of the realm of problems and suffering
To higher heights of Heaven on Earth.
Yes. October of overflowing optimism –
We are thinking big for you
Yes, America, we are preparing Heaven on Earth for you.
Yes, wide world of October,
Bulging with all possibilities,
Glad and grateful gardeners are we,
Carefully cultivating
In this point of space and time,
The reality of all heavenly possibilities on earth,
To spread out for all space and all time.
This October
Oh colorful glorious month
Will find America and our whole world family
Transformed
And full of a joy beyond wildest dreams.
Yes Yes Yes the cosmic quantum leap
Into Natural Law based administration-
Natural Law based civilization –
Perfect order we shall now reap.
This October,
Now.
Oh Yes The Joyous Welcome Big
To You Oh Magical Month!